Why E.L.S Egyptian Cotton?
One of the questions I get asked most often is: Of all the fabrics I could have chosen for my high-quality, handcrafted Fierri men's T-shirts, why Egyptian cotton? At least once a week, someone who's never worn a Fierri tee says to me, "I don't see what the fuss is about, Sebastian. Cotton's cotton, isn't it? Wherever it grows, it's still just a little white puffball. What's the big deal?"
I'm so glad you asked...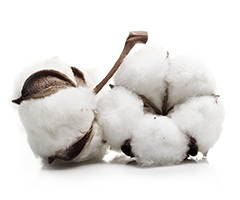 There is evidence of cotton fabric from as far back as 7,000 years ago, and it's been cultivated all over the world, from South America to India and China. But after thousands of years experimenting with plants in many different countries and climates, growers and textile makers found that the cotton plants grown in Egypt were a cut above the rest.
The long, mild winters, hot days, and cool nights of Egypt are ideal for growing cotton. This climate helps create what's commonly known as extra long staple cotton. This means the fibers on Egyptian cotton plants grow to an unusually long length. While most cotton fibers top out at around one inch, the average fibers on Egyptian cotton plants can grow all the way up to two full inches.

Hand Picked, Hand Crafted

These extra-long Egyptian cotton fibers are regularly picked by hand. This extra level of care in the cultivation of the plants keeps the fibers from breaking or being damaged by cotton-picking machines.
That means the yarn used to make 100% Egyptian cotton fabric is spun from full, rich extra-length cotton fibers. And the longer the cotton fibers, the more natural softness and durability is maintained. The finer threads you get from pure Egyptian cotton also make for a tighter, more consistent fabric weave. This keeps Egyptian cotton fabric softer, sturdier, and more flexible than any other cotton fabric being made today.
What This Means For Your T-Shirt

The outstanding properties of Egyptian cotton create a T-shirt like none you've ever worn before. The strong, durable fabric is ideal for physical activities, like sports and fitness. But it's lightweight, breathable feel ensures you stay cool and comfortable, no matter how hard you work. The flexibility of Egyptian cotton means this shirt moves with you, for a secure, tailored fit ideally suited to your unique build.

Egyptian cotton's quality also results in a long-lasting shirt that won't let you down. This fabric's ability to absorb and retain liquid makes it easy to dye, for long-lasting, vibrant color. The sturdiness of the cotton means you won't find your belt wearing holes in your midriff. Plus, there'll be no need to worry about "twerking," the way T-shirt bottoms twist to one side after long-term wear. Egyptian cotton holds its shape...so your T-shirt will hold yours.
Also, Egyptian cotton is far less likely to create lint during the washing process, and is much less prone to "pilling" (build-up of small, tight beads of bunched fabric) than lower-quality cotton fabrics.
Speaking of washing, you know how you hold your breath when you launder that new T-shirt for the first time? You just never know if the shirt you put into the machine will feel and fit like the one you pull from the dryer. Well, Egyptian cotton's special water-friendly qualities ensure that Fierri T-shirts not only keep their perfect size, but feel even softer over time. The result: A shirt that will continue to look, fit, and feel great, wash after wash.
It's clear that, from the hand-picked extra-long fibers...to the soft and strong fabric they produce...to the durable, versatile T-shirts that fabric creates...Egyptian cotton is simply a cut above. That's why, when I set my goal of designing the best-fitting, best-feeling, longest-lasting men's T-shirts available today, I knew Egyptian cotton was the only choice.
I'm confident that, once you add Fierri T-shirts to your wardrobe, and experience their unparalleled comfort and style for yourself, Egyptian cotton will be your only choice, too.